Okay, so there was a definite theme to the NYC leg of this trip. Seek out rare and exclusive Scotch whiskies from silent-stills (distilleries that ceased operations). A little self-indulgent, I know...
At Hudson Bar and Books in West Village, I found a bottle of Brora 21yr that was not on the menu... with a single dram remaining.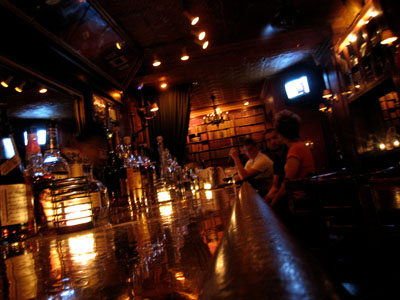 3 Reasons to Visit Hudson Bar and Books
1. Ambiance. Lovely collection of bottles and books. Employees in Prohibition Era attire. Enthusiastic and whimsical bartender/mixologist.
2. Whisky. Good selection. Discounted prices on Whisk(e)y Tuesdays.
3. Cigars. The place to go if you like a cigar with your whisky. Not a compelling reason to visit if you're just interested in the whisky.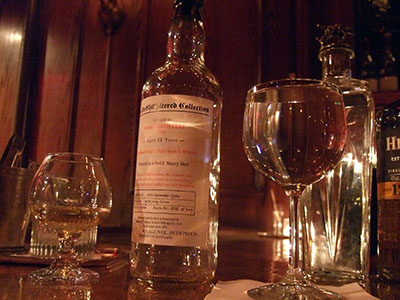 Brora 21yr Signatory Un-Chillfiltered Collection (46% ABV). Distilled in 1981. Bottled in 2003 (which concerned me because I didn't want a heavily oxidized "last pour"... there will be a future blog entry on this subject).
A: Light gold like the 24yr. Less oily as expected.
N: Difficult to gauge properly. Bar was heavy with the aroma of cigars and tobacco. Less alcohol burn than the 24yr. Lots of sherry and malt, like the 24yr. With water, nose became sweeter and more sherried.
T: Pepper, spice, honey, and juicy fruits. Less peated than the 24yr. With water, the spice and peat intensified slightly, as did the sherry.
Overall, the Brora wasn't as flat as I was initially expecting. It really was the more mild-mannered brother to the 24yr Cask Strength.