I never cared much for Glenlivet. I foolishly passed judgment on the entire distillery based off of their cheapest, most mass-produced whisky (standard 12yr bottling). I first heard about Nadurra from an Absolut Mango spokesperson, bizarrely enough. After seeing the name tossed around a bit and doing a little digging, I figured it'd be worth picking up (certainly cheap enough).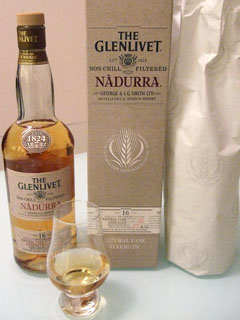 First of all, interesting presentation. No, not just the lovely box and wrapping paper. The Nadurra is bottled at cask strength at a whopping 57.7% ABV. It is also non-chill filtered and from what I can see, most likely does not have any caramel coloring added (appropriately enough, Nàdurra apparently means Natural in Scotch Gaelic).
I was waiting for the right… mood to open this bottle. After the Glenfiddich tasting, I figured I'd give it a go since my palate was expecting something light and fruity. Nadurra was no such thing.
Appearance: Light and golden. Noticeably more oily than the Glenlivet 12yr.
Nose: Neat, was expecting 115.4 proof toxic fumes. But no, it had a bold freshness to it. Floral. Woody. Nutty. As it opened up (no water yet), it was changing quite a bit. Moving to a more toffee sweetness. More oaky than sherry.
Taste: Neat, it is oily and POWERFUL! Initially overwhelmed by the alcohol then the senses are thrown off by the mix of woody, spicy notes. Ever so slightly medicinal and get this… the whole time, it's peaty! After water, it gets creamy and honey-ed with a certain spicy sweetness (like ginger). Finishes with a touch of citrus.
Amazingly well-balanced and complex whisky. Excellent presentation and totally affordable. Would definitely give pricier Highland Parks a run for their money!