My next whisky... "focus of attention" is a bit off the beaten path... an independent bottling of Highland Park. It's the 2nd independent bottling of Highland Park I've tried (the other being a Signatory) and apparently there are quite a few others.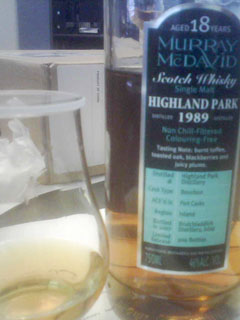 I like what most independent bottlers do with well known Scotch Whiskies. They do something a little unique (like bottle from a single hand selected cask or finish the aging in a special cask like this Murray McDavid), skip the chill-filtering and coloring, and possibly bottle it at cask strength (in this instance, the Highland Park was bottled at 46% ABV instead of the usual 43%). It's definitely something special for the Highland Park enthusiast.
Another benefit to these bottlings is the informative label. From it, we gather that it was distilled in 1989 at Highland Park Distillery on Orkney, aged for 18 years, bottled at the Bruichladdich Distillery on
Islay
in 2007, aged in Bourbon casks, finished in
Port
casks, and was limited to only 900 bottles which makes your chances of trying it... not very good. Doing a little research of my own, Murry McDavid waters down the whisky from its cask strength to its 46% ABV with Bruichladdich's Islay water source.
And after all that special treatment? It still tastes like Highland Park to me.
Appearance: Quite dark for being a natural colored whisky. Influence of the Port casks perhaps? Slightly more oily than Highland Park's 18yr bottling to my eye judging from the legs/tears.
Nose: Immediately sweet (not sherry, not toffee... perhaps more influence of the Port casks? I don't know... I don't drink Port). Malty. Moderately peated. Nicely balanced... just like Highland Park.
Taste: A delicious, yet sweet Highland Park. For me, it needed a splash of water. As the whisky opened up, the citrus and woody notes really came through.